Baghdad Nights Event | Sydney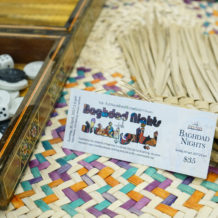 On Sunday the 30th of April, the Australian Iraqi Muslim Society (Sydney chapter) held a fun interactive event that explores Baghdad's history, culture and tradition. [scroll down to photos here]
The event started with Zeena, the MC, welcoming the attendants to the event and explaining the importance of the younger gernation of Australian Iraqis (and anyone) understanding Iraqi culture beyond what they may know from the news about a violent sad place.
Newly elected president Dr Hamid Almifirgi also spoke briefly, informing the attendants of the achievements and the events held by the Iraqi Society since its establishment two years  ago. Dr Hamid thank previous president Dr Abdulrazaq Moahammad for his tireless work and his great contributions to the success of the society. Alhumdulillah during those two years the Iraqi Society established a chapter in Melbourne, was able to acquire a Charity Status (Thanks to the hard work of our treasure Dr Hussien Almutaq) and were able to fund raise $300K to help displaced Iraqis after the fall of Mosul.
Poetry was recited with great passion by Dr Mohammad Alnaqeeb. A very exciting quiz was enjoyed by everyone where the prizes included a Gidr of Dolma.
The final event was an interview with Beebee, who- in her late 80s with an excellent memory- was able to recall traditional Baghdadi etiquettes during Ramadan, as well as for engagements and weddings.
We would like to thank everyone who attended and who contributed to the success and enjoyement of this event, and we look forward to your company in our upcoming events inshallah.