NSW | Eid ul Fitr Gathering 2017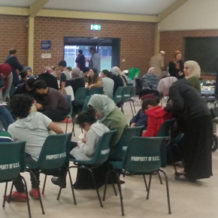 The Australian Iraqi Muslim Society celebrated Eid ul Fitr 2017 with its members and friends at the Bill Lovelee Youth Centre in Chester Hill.
It was a cold Sunday morning on the 2nd of July, but the families and children who attended enjoyed themselves with great company, great food and lots of entertaining activities.
Thank you to everyone who brought their food, and made this gathering more blessed.