Official Statement: Humanitarian Disaster In Fallujah And Ramadi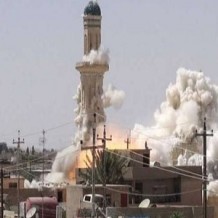 Statement From The Australian Iraqi Muslim Society Regarding The Humanitarian Disaster In Fallujah And Ramadi
In the name of God, the merciful, the beneficent
News from Iraq continue to tell a tragic story of pain and suffering, this time with indications of a humanitarian disaster about to take place in the western region of Iraq, specifically Ramadi and Fallujah.
The only crime perpetrated by the inhabitants of those two provinces is that they happen to live between the claws of terrorist groups and the talons of sectarian militias, under the eye of a state still absolutely failing in its basic duty to safeguard its people.
This takes place in the 21st century, in a country that holds one of the largest natural resources globally as its wealth. Sadder still is that this is happening with the knowledge of the world, and despite all the technical and material capacity to put a stop to this. There is only silence and a willing blindness to the disaster happening before our eyes, save a few impotent statements with little credibility.
The Australian Iraqi Muslim Society is deeply concerned and mystified at the carelessness regarding the suffering of innocent peoples, and we call upon all those with integrity and honesty to raise their voices and call to save our peoples in those provinces. We also call upon all those who are able, to utilize their resources in the field of charity to eases the suffering of an honourable people with a history of helping others at times of need.
Additionally, we call upon the Australian Government, as well as all humanitarian organisations locally and internationally to use their political and other respected platforms to put a stop to this humanitarian disaster in the making, the occurrence of which would cause great ripples in the region, and which would severely affect the credibility of importance of human rights.  
We finally remind our people in Iraq that our hearts and prayers are always with you, we pray that Allah eases your suffering and supports you in this time of hardship. May He have mercy over the souls of those who were martyred from hunger, and to heal the sick.