Official Statement: Crimes In Muqdadiyah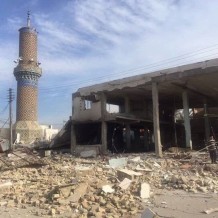 The Australian Iraqi Muslim Society was shocked to learn of the crimes taking place on a daily basis in Muqdadiyah
In The Name Of Allah, The Merciful, The Beneficent
Every day the new Iraq wakes to news of a new tragedy in this endless stream of crimes at the hands of criminal militia elements targeting the sunni population in Iraq. The most recent such crime occurring as we speak against the people of Muqdadiyah (in the Iraqi province of Diyala) by violent groups and militias devoid of any humanity or religion.
Horrendous war crimes are taking place in Muqdadiyah including targeting innocent unarmed civilians taken from their families and homes to be beaten, tortured and killed under the guise fighting terrorism. At a time when the only terrorist presence or indeed criminal activity in Diyala (and Muqdadiyah in particular) is by the hands of those bloodthirsty militias, the violence of which reached even to destroying mosques and targeting members of the media trying to cover this systematic effort to wipe out the sunni segment of the community whose crime was their beliefs and their misfortune of living areas targeted to be acquired for well known a foreign political agenda.
The Australian Iraqi Muslim Society was shocked to learn of those crimes taking place on a daily basis on the hands of groups so exceedingly brutal and violent that they have surely abandoned their humanity, as well as their religious and national identities, and have become instead attacks dogs for a wider foreign political regional policy of expansion against the united cultural, religious and geographical reality of Iraq as it stands.
Therefore we condemn in the strongest terms these attempts to wipe out Iraq's sunni community and their properties and places of worship. Furthermore we call upon anyone who calls Iraq their home or who have any sense of humanity to do all they can to uncover the truth of what's happening in Muqdadiyah to stop the machinations of this horrific ongoing massacre.
The world has come to recognize such crimes and those who perpetrate them and stand to benefit from them when the UN condemned those crimes and warned of their repercussions. We therefore call the international community and specially those who took an active part leading to what is currently happening in Iraq to take real credible steps towards to stop those crimes before it's too late.
We end this release with a prayer for our brothers and sisters in Muqdadiyah and Babel to be counted by Allah SWT as martyrs, and to heal the wounded and protect those still surviving and persevering in those homes.
The Australian Iraqi Muslim Society
17th January 2016